SEAMLEZ SalesForce - Mobile Sales App/
SalesForce is an android-based Mobile Van Sales or Mobile Sales App, which aims to assist your business in capturing sales information such as Cash Sales, Credit Sales, Consignment/Stock Transfer, Payment Received and Sales Orders. These sales data can be uploaded into your backend server to be processed realtime or when Internet connection is available. In addition, these data can be posted into your accounting system, thus streamlining your business processes.
Product Name
SEAMLEZ SalesForce
Price
Contact us for more detail
SalesForce OVERVIEW: An Android-based mobile app that allows your sales team to capture realtime sales data ON-THE-GO! Its' main features include:
Realtime location tracking of vans/mobile sales team. Integration with Google Maps
Download from server vital sales data such as customer information, stock levels, products pricing, and etc.
View and create Sales Orders
View and create Cash Sales
View and create Credit Sales
View and create Payment Received
View and create Consignment/Stock Transfer
Upload of new customer and sales data into the backend server realtime or when Internet connection is available
Posting of Sales Data to Accounting system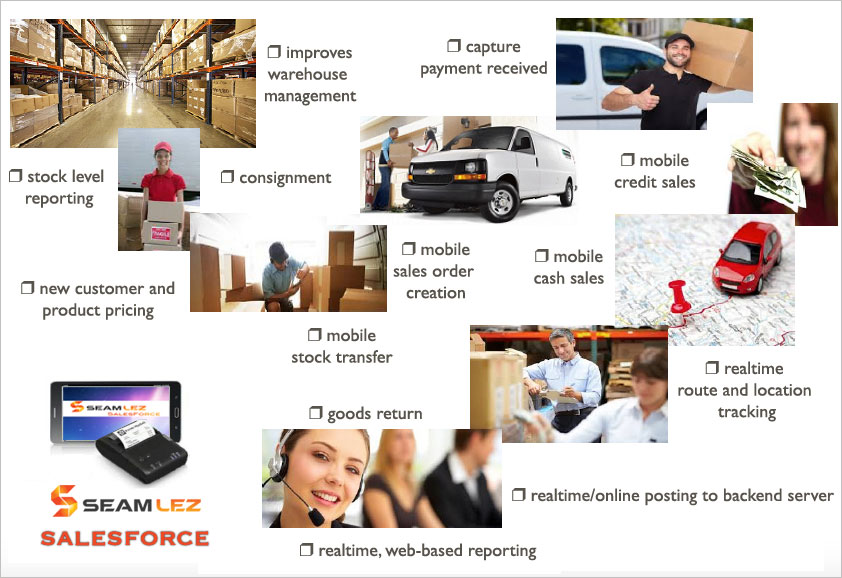 ---
Discover
Check out some of our Cool Products and Services.
---