SEAMLEZ AZUO Point-of-Sales System (Android POS) for F&B, Retail, Kiosk, and Mobile Van Sales business
Our POS system - AZUO POS - is specifically designed to run on Android platform, hence the name AndroidPOS, to cater for today's demand for mobility, light-weight and cost-friendly environment.
WHY SEAMLEZ Android POS for Retail, F&B, Kiosk, and Mobile Van Sales business? Experience. Simplicity. Relationships. We understand that putting together all the right hardware pieces to make your POS System run smoothly can be tricky. So, we've worked hard to take the guesswork out of it. That means no more scouring the internet and scratching your head about what works with what, and which goes with which. And, we've got the inventory on hand so we can get it to you fast, replace it just as fast if it breaks, and bring a level of expertise and experience that ensures you'll get exactly what you need to get up and running so you can focus on what matters most – your business. Need more proof? Sure. Contact us now!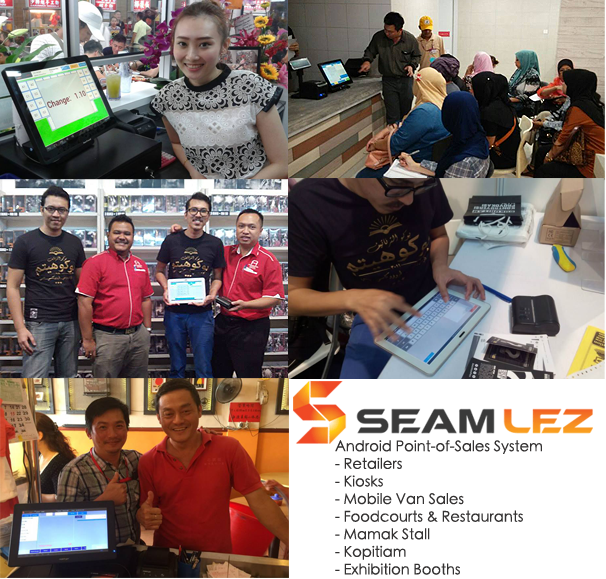 Price
Contact us for more detail
AZUO POS Features
transform from traditional way
---
Fast Delivery
Product is ready and just needs to customise in order to fix your business.
GST Compliance
GST compliance - Tax code configuration, generation of GAT file, transaction keeping for future audit, simple Tax invoices and Full Tax invoices and etc.
Easy to install
Ease to install and setup. Unlike other POS in the market, our SEAMLEZ AZUO POS is designed to run with a few steps of configuration. Upon installation, just create the master data with our simple setup screens and it is ready to go!
Support Cloud (Cloud POS)
Support cloud (Cloud POS) as well as standalone.
Secure
High security cashier login and logout and authorization control with password and access level.
Support Hardware
Optional data input by PLU code or barcode and QR code scanning.
Multi Report Available
X-report allows user to print current sales before day end closing.
Z-report printing after day end closing.
Support bluetooth feature
Additional support for bluetooth receipt printers,barcode scanner for mobile sales
| | |
| --- | --- |
| | |
---
Discover
Check out some of our Cool Products and Services.
---